On average, about 8% of utility service contracts fall through the cracks, according to "The Rise of Asset and Service Data Gravity", a survey conducted by Vanson Bourne. These missing service work orders represent millions in lost revenue across the industry. In response, the industry is moving to outcome-based services, which integrate various services with products. How much of problem is leakage in your organization? What steps are you taking to address it?
Service Contract Leakage is a Big Problem for Utilities
On average, 17,987 work orders are unaccounted for annually – representing millions in lost revenue 17 July 2018 – London, UK – New global research reveals that service contract leakage in the...
Source:
pressreleases.responsesource.com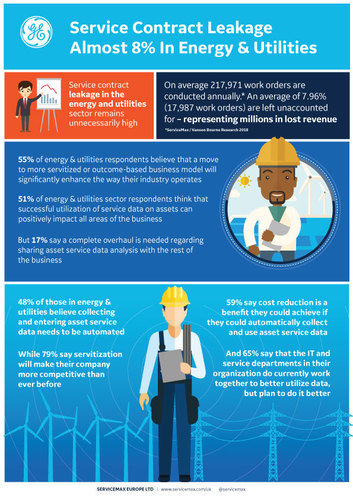 Thank Paul for the Post!
Energy Central contributors share their experience and insights for the benefit of other Members (like you). Please show them your appreciation by leaving a comment, 'liking' this post, or following this Member.