Jennifer shared this link
Southern California Edison Blamed in Lawsuit for 3 Los Angeles-Area Wildfires
Edison International's Southern California Edison was blamed in a lawsuit for three wildfires that destroyed more than 1,000 buildings and killed a firefighter.
Source:
www.insurancejournal.com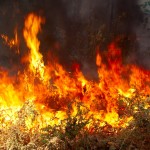 shared on January 12, 2018

133 views
No official findings on the cause of the recent Los Angeles, Ventura, and Santa Barbara county fires. Yet, that doesn't prevent those who lost land, homes, and possessions from wanting to name a source. SCE is the utility under attack for this round of California fires and will need public relations expertise beyond "no comment." My question still is - how can we create self-driving cars, virtual reality, and work from satellites, but we haven't mastered how to contain wildfires? Perhaps a new utility coalition should be underway?