Wholesale power prices in 2017 were stable in the east, but increased in Texas, California - U.S. Energy Information Administration
Low prices translated into a second straight year of natural gas as the leading source of U.S. electricity generation.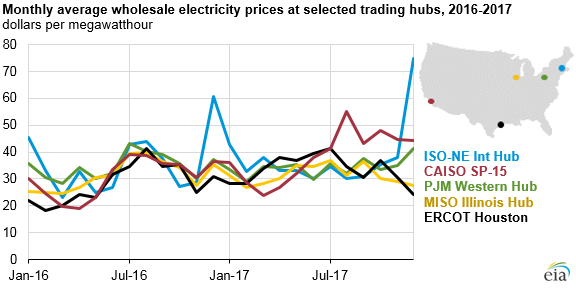 shared on January 17, 2018

342 views
During the second half of 2017, the monthly average price of natural gas delivered to U.S. electricity generators stayed within a narrow band of $3.10 per million BTUs to $3.30 per million BTUs. This was a major factor in the ability of natural gas "to remain the dominant source of U.S. power generation for the second year in a row," according to the U.S. Energy Information Administration. Outside of some summer heat wave spikes in the West and last month's ice box spike in New England, wholesale electricity prices in most of the United States didn't show much volatility.