Sign in to Vote
5
Shared Link
Owner, Sharryn Dotson Consulting LLC
US judge cites tribal sovereignty in dismissing coal lawsuit
A U.S. district judge dismissed a lawsuit against the Four Corners Generating Station and the associated Navajo Mine near the Arizona-New Mexico border, citing tribal sovereignty.
Environmental groups sued owners of the mine and power plant, saying a lease extension in 2015 did not consider clean energy alternatives. However, the judge ruled that because the Navajo Nation owned a corporation that owns the mine, it is exempt from any lawsuits and the case could not continue against just the power plant.
Three of the five coal units at Four Corners have already shut down, but should the entire plant close?
ALBUQUERQUE, N.M. (AP) — A U.S. district judge cited tribal sovereignty in dismissing a lawsuit aimed at shutting down a coal-fired power plant and adjacent mine near the Arizona-New Mexico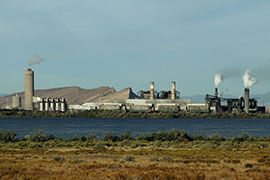 Discussions
No discussions yet. Start a discussion below.