Based on EIA's December 2018 monthly electric generator inventory of utility-scale generation, 31.3 gigawatts (GW) of generating capacity were added in the United States in 2018 and 18.7 GW of capacity were retired. The 2018 annual capacity additions were the largest since 48.8 GW were added in 2003. Most of the additions happened in the second half of the year, while the retirements occurred mostly in the first half.
U.S. utility-scale additions in 2018 primarily consisted of natural gas (62%), wind (21%), and solar photovoltaic (16%) capacity. The remaining 2% of additions came primarily from hydroelectric and battery storage capacity.
Natural gas. Almost 90% of the 19.3 GW of the natural gas-fired capacity in the United States added in 2018 were combined-cycle generators, the most efficient natural gas-fired generating technology. Pennsylvania accounted for almost 25% (4.4 GW) of all 2018 domestic natural gas additions, and three other states—Maryland, Virginia, and Florida—accounted for about 30%.
Wind. In 2018, 6.6 GW of wind capacity came online, almost 60% (3.8 GW) of which was added in December. Texas, Iowa, and Oklahoma added a combined 4.0 GW of wind capacity, more than 60% of total U.S. wind additions.
Solar. About 60% of the 4.9 GW of U.S. solar photovoltaic (PV) additions in 2018 occurred in California (1.1 GW), Florida (1.0 GW), and North Carolina (0.6 GW). These numbers only represent utility-scale solar and do not include small-scale PV.
More than 60% of electric generating capacity installed in 2018 was fueled by natural gas
Energy Information Administration - EIA - Official Energy Statistics from the U.S. Government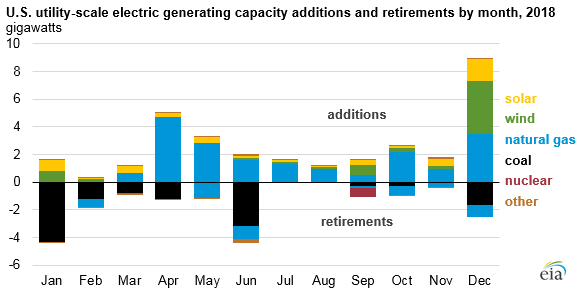 Thank Matt for the Post!
Energy Central contributors share their experience and insights for the benefit of other Members (like you). Please show them your appreciation by leaving a comment, 'liking' this post, or following this Member.