September 27, 2018

225 views
According to EIA's international electricity statistics, hydroelectric and fossil fuel-powered generation were the top sources of growth between 2005 and 2015 in Sub-Saharan Africa (SSA), defined as the 49 countries fully or partially south of the Sahara Desert. During that period, hydroelectric generation increased by about 40% in the region, while fossil fuel-powered generation increased by 15%. SSA electricity generation totaled about 420 billion kilowatthours (kWh) in 2015, including distribution losses and exported electricity, an increase of 22% during the decade.
Hydro and fossil fuels power electricity growth in Sub-Saharan Africa - Today in Energy - U.S. Energy Information Administration (EIA)
Energy Information Administration - EIA - Official Energy Statistics from the U.S. Government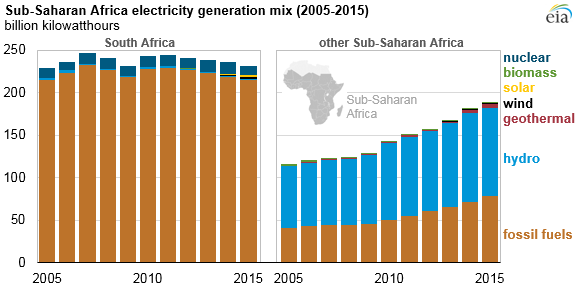 Thank Matt for the Post!
Energy Central contributors share their experience and insights for the benefit of other Members (like you). Please show them your appreciation by leaving a comment, 'liking' this post, or following this Member.