Shared Link
Future U.S. electricity generation mix will depend largely on natural gas prices - Today in Energy - U.S. Energy Information Administration (EIA)
Energy Information Administration - EIA - Official Energy Statistics from the U.S. Government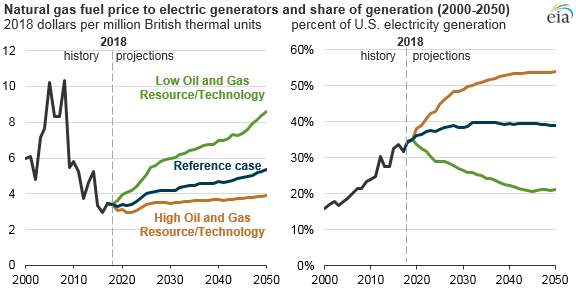 February 6, 2019

202 views
The mix of fuels used to generate electricity in the United States has changed in response to differences in the relative costs of electricity-generating technologies and their fuels. EIA's Annual Energy Outlook 2019 (AEO2019) shows that projected generation and capacity is significantly influenced by natural gas prices. In the High Oil and Gas Resource and Technology scenario, a sensitivity case with low natural gas prices, natural gas provides 54% of all U.S. electricity generation by the end of the projection period. In the Low Oil and Gas Resource and Technology scenario, a corresponding sensitivity case with high natural gas prices, the natural gas generation share falls to 21%.
Thank Matt for the Post!
Energy Central contributors share their experience and insights for the benefit of other Members (like you). Please show them your appreciation by leaving a comment, 'liking' this post, or following this Member.