EIA Issues Annual Energy Outlook 2018
The U.S. Energy Information Administration's newly released Annual Energy Outlook provides modeled projections of domestic energy markets through 2050.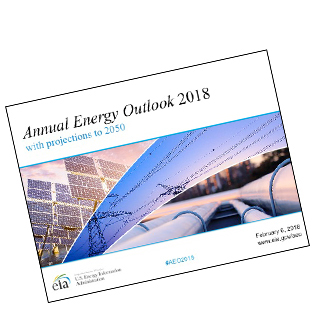 shared on February 6, 2018

223 views
Lots to absorb in the Energy Information Administration's long-term energy projections for the United States. In the Reference case, natural gas consumption grows the most on an absolute basis, and nonhydroelectric renewables grow the most on a percentage basis. In the electric sector, "the primary drivers for new capacity in the Reference case are the retirements of older, less-efficient fossil fuel units, the near-term availability of renewable energy tax credits, and the continued decline in the capital cost of renewables, especially solar photovoltaic. Low natural gas prices and favorable costs for renewables result in natural gas and renewables as the primary sources of new generation capacity."