Shared Link
Coal Put out to Pasture at Record Rates
Oct. 25, 2018 — U.S. coal-fired power plant closures are on pace this year to set a record, concludes a research report published today by the Institute for Energy Economics and Financial Analysis. The report — "Record Drop in U.S. Coal-Fired Capaci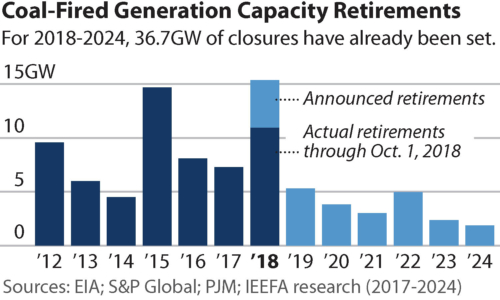 November 2, 2018

248 views
U.S. coal-fired power plant closures will set a record this year, according to the Institute for Energy Economics and Financial Analysis. The group found that 2018 retirements are expected to total 15.4 gigawatts of power. In all 44 units at 22 plants in more than a dozen states will close up shop. In the next six years, an additional 21.4GW of coal-fired capacity is expected to go offline. States closing coal plants include Florida, Indiana, Kansas, Kentucky, Maryland, Minnesota, Missouri, Ohio, Pennsylvania, Tennessee, Texas, Virginia, West Virginia and Wisconsin. What do you think about the closures? What do you see as the future of coal?
Thank Paul for the Post!
Energy Central contributors share their experience and insights for the benefit of other Members (like you). Please show them your appreciation by leaving a comment, 'liking' this post, or following this Member.