Post
Utilities Assess Future Revenue and Damage Costs from Increasing Extreme Weather Events
May 14, 2019 7:41 pm GMT

3263 views
May 12, 2019 - In a recently issued McKinsey Report it analyzes climate-change risks in the United States and specifically looks at storm-related impacts across ten large utilities in seven hurricane-prone states plus New Jersey. The states include Alabama, Florida, Georgia, Louisiana, North Carolina, South Carolina, and Texas. According to the report, these ten large utilities averaged $1.4 billion USD in storm damage and lost revenues over 20 years. And based on future forecasts of extreme weather events and coastal flooding, it estimates a 23% increase or an additional $300 million in losses.
Utilities today are more vulnerable to weather extremes than in the past. Why?
Because there are more homes to be linked to the grid.
Because many new homes being built encroach on nature with the potential for flooding along coastlines, or wildland wildfires where homes are erected in more remote areas.
Utilities have to put their assets in place to service these homes and when the latter are at risk so is the infrastructure that the power companies erect. The best recent example of utility risk is the wildfire that engulfed Paradise, California, a fire purportedly started by weather that caused powerlines to fall igniting the dry forests near the community. PG&E sought bankruptcy protection after the smoke cleared. The utility faced $7 billion in claims and filed for bankruptcy in January of this year.
Power plants tend to be more vulnerable than most industrial facilities because they are built near water sources. Hence 44 were flooded when Hurricane Irene made landfall in August of 2011, and 69 met the same fate with Hurricane Sandy in 2012.
Hurricane Harvey in 2017 saw 6,200 poles, 850 transmission structures, and 21.4 gigawatts of power impacted by wind and flooding.
In 2005 when Hurricane Katrina struck, Entergy, the Louisiana-based utility was forced into bankruptcy protection from the significant damage to the city of New Orleans. The utility lost more than 75% of its transmission lines and sub-stations. Since Katrina, Entergy has invested $1 billion on hardening its transmission and distribution infrastructure to withstand a Katrina-level storm. And now it is investing in restoring Louisiana's coastal wetlands to stave off storm surges and coastal flooding.
ConEd, the utility most impacted by Hurricane Sandy, has also spent $1 billion to strengthen its infrastructure raising equipment in flood zones, and isolating parts of the grid to ensure continuity of service can be maintained in the event of another storm of equal magnitude.
Florida Power & Light has also been hardening its infrastructure since Hurricane Wilma in 2005 made landfall in the state. More than $3 billion has been invested so far in flood protection, the burying of powerlines, and replacing wooden poles with steel and concrete.  Nonetheless, despite these efforts when Hurricane Irma landed in 2017, the utility's best efforts weren't robust enough with more than $1 billion in damages to its post-Wilma improved infrastructure.
These are but a few examples of what has been experienced in the past 20 years, and from the latest forecasts foreshadowing a more dire future for utility operators. And the forecast of increased damage and lost revenue doesn't take into consideration the negative impacts of increased atmospheric temperatures with more heat waves, more polar vortices, and sea-level rise not associated with storm surges.
But hardening traditional infrastructure may be a fool's errand. Instead the McKinsey Report suggests utilities build resilience in other ways including:
Reducing utility footprints through decentralizing assets. Instead of building large powerplants these companies can put power generation closer to the point of delivery. That means less need for transmission lines, and the removal of the potential Achilles' Heel should a centralized facility be damaged by a future storm.
Increasing the use of battery backup power in the event of a powerplant going down from a storm. Batteries can provide continuous power in an outage and during spikes in demand meet customer requirements. Tesla has demonstrated that you can use large lithium-ion battery farms to back up wind power facilities in a recent South Australia project. Utilities need to take notice.
Developing microgrids to decentralize power generation and make it more site-specific, a return to how power was first generated at the beginning of the 20th century before utilities invested in big facilities and a continental power grid.
Better environmental stewardship such as investing in coastal wetlands as natural barriers to sea level rise and storm surges, or developing better power delivery strategies for communities near wildlands.
And governments both local, state and national, can help by restricting development in areas deemed to be more at extreme climate risk. That means you don't rebuild a Paradise, California. And you don't put homes and buildings on floodplains and along coastlines that have experienced storms like Hurricane Sandy and Harvey.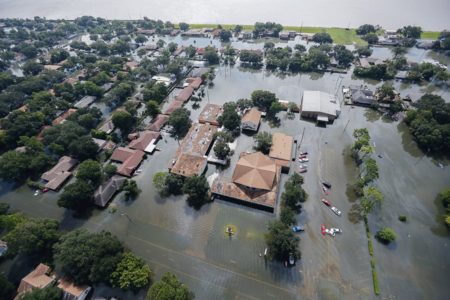 Port Arthur, Texas after the passing of Hurricane Harvey in 2017 saw more than 6,200 power transmission poles and 850 transmission structures damaged. (Image credit: McKinsey.com)
Thank Len for the Post!
Energy Central contributors share their experience and insights for the benefit of other Members (like you). Please show them your appreciation by leaving a comment, 'liking' this post, or following this Member.