Post
How the PJM Power Grid in the US Skirted Very Close to Blackouts During January's Polar Vortexes
Mar 4, 2014 5:30 am GMT

505 views
If the polar vortexes that walloped the Eastern U.S. twice in January taught us anything, it's that the power grid in the Mid-Atlantic states narrowly escaped blackouts that could have endangered public health and safety and cost the U.S. economy tens of millions of dollars.
The near miss was the result of a five-fanged challenge that will grow more serious if regulators and industry don't respond before another record-breaking cold snap:
The shift to less-expensive natural gas-fueled power plants in place of larger, coal-fired, generators is reducing available generating capacity during the winter when relying on interruptible delivery of natural gas and/or lack of adequate back-up fuel;
Not requiring firm gas supply contracts;
Limits  on the spot price of power in the PJM wholesale market discourage additional power plants from using any fuel which could have helped meet the surge in demand for electricity;
What additional natural gas that was available in areas further east couldn't reach some electric utilities due to insufficient pipeline capacity; and
Some natural gas pipeline networks froze up, further constraining natural gas supplies.
That, in essence, is the diagnosis by analysts Judah Rose and his colleagues at ICF International, a consulting firm based in Fairfax, VA. They assessed how PJM grid operators saw the crunch coming and issued the requisite calls for large power users to curtail their loads. But the convergence of these five factors pushed the eastern PJM grid to the brink.
PJM set a winter peak demand record on January 7 of 141,312 megawatts (MWs) of electricity used. That smashed the winter peak before this January's cold spells of 136,675 MWs set in February 2007. The five biggest demands – ever – on PJM's grid, and eight of the 10 largest, occurred between January 7 and January 30.
"The grid successfully avoided disaster, but did we need to skate so close to the edge?" asked Rose, along with colleagues Dave Gerhardt, John Karp, Frank Brock, Trisagni Sakya and Mohit Shrestha.
The maximum price PJM was permitted to offer temporary generators was $1,000 per megawatt hour (MWh). That proved to be far short of the incentive needed under PJM's unique market-based rules.  The price cap in the Electric Reliability Council of Texas power grid, by comparison, is $5,000 per MWh.
The polar vortexes that reached their peaks on January 7 and then again around January 22  and January 30 dropped temperatures below zero in the upper Midwest and near zero in the Mid-Atlantic states. At 8 a.m. and then again at 7 p.m. local time, the Eastern portion of the PJM grid flirted with rolling blackouts.  
Because much of the blackout risk stretched from New Jersey down through Baltimore and the metropolitan Washington, DC area, including Northern Virginia, one can imagine what the political fallout would have been. It might have rivaled the California power crisis in 1999-2000 and the questions it raised about competitive power markets.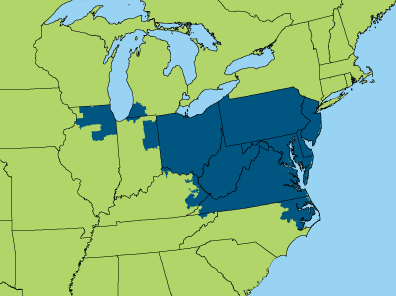 The PJM grid includes the states and portions of other states in blue. The power blackout risks in January were most pronounced in New Jersey, eastern Pennsylvania, Maryland, Delaware, Washington, DC and Virginia. CREDIT: FirstEnergycpb.com
With the benefit of hindsight, the most fundamental – and fixable – problem appears to be that the cost to generate electricity significantly exceeded the cap limiting what the competitive PJM wholesale power market was permitted to offer.  Rose and colleagues wrote that this "dangerously and inadvertently created incentives not to perform, and thus, endangered grid reliability."
Some power plants that could have ramped up their generators chose not to do so; this even after some generators were forced to run while losing money. The Federal Energy Regulatory Commission (FERC) is expected to alleviate this disparity by providing "make-whole" payments to some generators. More on this later.
"There are huge potential implications for consumers and commercial entities , especially those not hedged and caught unaware," the ICF team concluded in a series of three white papers entitled "Polar Vortex Energy Pricing Implications—Commercial Opportunities and System Reliability.
Perhaps the most far-reaching dynamic is the growing reliance on natural gas to generate electricity during severe cold spells. PJM, along with grid operators south and west of its Mid-Atlantic footprint, have experienced and navigated  numerous summer peaks in demand. But existing plans do not similarly address winter peaks. Blackout risks remain during winter months until PJM and regulators update their response plans and mechanisms.
The contracted demand for natural gas for home heating means those supplies go to utilities which are heating homes and commercial facilities that have agreed on an up-front price and volume. Even with the steady increase in natural gas supplies from hydraulic fracturing – much of it under PJM's power grid in Pennsylvania's Marcellus Shale formation – the expected retirement of more coal-fired power plants sets the stage for more near-perfect 'storms' of too much demand and not enough supply in the summer as well as the winter. Depending on how utilities and independent generators  retire coal-fired and nuclear power plants, the capacity shortfall could get worse before it gets better.
"Careful policy and planning changes are needed to accommodate the new power gas relationship," ICF states. "PJM needs to appropriately plan for both peaks – summer and winter – as well as provide appropriate pricing signals to generators perhaps by tying generator offer caps to gas prices rather than leaving them administratively set at $1,000 per MWh."  Also needed: "the right balance between automatic market mechanisms and administrative action."
Industrial facilities willing to scale back their demand for electricity (aka "interruptible load") represent more than half of the expected reserves during certain peak demand periods in PJM. Virtually all of those arrangements are effective in the summer, not winter, months.  PJM called on interrupted load wherever it could the night of January 6 and then again on January 24. On those dates, the wholesale spot, "real-time," price for power to Pepco in central Maryland and the District of Columbia was $2,200 per MWh, more than twice the capped price. Across the Potomac River, the spot price to Dominion Virginia Power (also in Eastern PJM) was even higher, at $2,600 per MWh.
To illustrate what it would have cost a temporary generator to respond, consider this scenario offered by ICF:
When natural gas prices hit $123 per million BTUs during one of the vortexes, the fuel portion of the operating cost of a marginal gas-fired peaking plant would have been $2,706 per MWh. But the generator could only bid the $1,000 per MWh maximum to cover all of its costs. Choosing to run that plant would have cost the operator $1,706,000 every hour. That would have amounted to $287 million for one week.
Maybe a request by PJM for a waiver on the price cap to reimburse plant operators for the shortfall would have satisfied some chief financial officers, but not many, if any.  For the requests PJM did make for plants obligated to participate, ICF reported that PJM "consulted with counsel and believes the anticipated retroactive waiver request will likely be accepted by the FERC." Seems to me the reliability of the power grid deserves a much more certain response.
"It is very dangerous to rely on ex post cost recovery and legal opinions of PJM regarding FERC regulations that have not been determined," Rose stated via email.
Repeated requests to PJM's media professionals for comment(s) by a PJM executive yielded one substantive email response that did not contradict or challenge ICF's conclusions. It would not make an executive available for an interview.
The grid operator serving the New England states – the New England Independent System Operator – where temperatures were even colder than in PJM, weathered both polar vortexes mainly because it relied a lot less on interruptible loads to balance supply and demand for power.  It should be noted that is likely to change according to the ICF analysts because "only 27% of (its) contracted interruptible load was actually in place."  The upshot: the New England Independent System Operator could face similar risks if it doesn't heed what happened to PJM in January.
This graph illustrates how the risk for winter power blackouts in PJM grows more than 20-fold in 2015 and 2016 (vs. 2014-15) because compared to 11,769 megawattare scheduled for retirement in those years, only 3,800 MWs are to be added.  CREDIT: PJM Interconnection

Two more problems involved natural gas pipelines: One was inadequate pipeline capacity to transmit much needed natural gas to the power plants willing to power up. Natural gas utilities needed to draw on their maximum supplies to meet demands by regulated residential and commercial customers. That left slim pickings for everybody else. So even if a power plant wanted to jump in, there wasn't enough natural gas there to begin with.
The second problem: certain natural gas pipeline did not hold up amid the frigid temperatures and certain system mechanics froze up. So even if natural gas was available, certain pipeline networks, especially in Pennsylvania, were not capable of transmitting gas. These pipelines had not adequately winterized their facilities. ICF stated that PJM reported 36,000 MW of generation — equivalent to 20 percent of its installed capacity — was unavailable at one point due to forced outages.
"The critical critical change in the resource mix is more gas coupled with a set of policies that do not incentive (sic) adequately firm gas supply and interruptible load which might not be actually interruptible," Rose added via email.
Thank Jim for the Post!
Energy Central contributors share their experience and insights for the benefit of other Members (like you). Please show them your appreciation by leaving a comment, 'liking' this post, or following this Member.