Post
Electrothermal Energy Storage Now Part of the Renewable Mix
Jul 12, 2019 12:30 am GMT

3045 views
July 11, 2019 - Last month Siemens Gamesa Renewable Energy launched a pilot technology at Hamburg Energie, described as electric thermal energy storage (ETES). The project includes more than 1,000 tons of volcanic rock which electrically heats hot air to raise the temperature of the material to 750 Celsius (1,382 Fahrenheit) degrees. The current project has a capacity of 120 Megawatt Hours (MWH) with plans to increase this further to several hundred MWHs in 2020.
During peak energy demand, the ETES converts the stored energy by steam turbine into electricity. The pilot plant is designed to provide the data necessary for the company to scale up storage capacity to several gigawatt hours (GWH) in new facilities with each additional GWH providing the daily electricity requirements for 50,000 homes.
In the official press release announcing the plant's opening, Germany's State Secretary, Federal Ministry of Economics and Energy, Andreas Feicht, stated, "Decoupling generation and consumption of fluctuating renewable energy via storage is an essential contribution to implementing the energy system transformation." The technology would certainly fit well within a mix of renewable options including wind, solar, geothermal, hydroelectricity, and other energy storage technologies that Germany and other nations are seeking in achieving a low-carbon energy future.
What makes ETES so attractive?
The company along with the Institute for Engineering Thermodynamics at the Hamburg University of Technology have been working on the concept since the first model was developed in 2012. Both novel and somewhat a no-brainer idea, it almost sounds too good to be true. But here are just a few of its many advantages:
The initial energy input is drawn from existing power sources (doesn't matter the source).
The energy produced is 100% renewable producing zero carbon emissions.
It is built from 80% off-the-shelf components.
The capital expenditure is up to ten times lower than battery storage.
Unlike battery storage, no hazardous materials are used.
Charging, discharging and storage can be independently scaled.
The storage duration per charge lasts up to two weeks.
It can be a stand-alone facility and scale from MWH to GWH capacities.
It can attach to an existing thermal power plant or an energy-intensive industrial plant.
Efficiency is maintained at 98% while storing heat, and up to 45% at full-electric cycle.
When asked about the technology, Markus Tacke, CEO of Siemens Gamesa stated, "With the commissioning of our ETES pilot plant, we have reached an important milestone on the way to introducing high-performance energy storage systems....We are thus presenting an elementary building block for the further expansion of renewable energy and the success of the energy transition." By energy transition, Tacke is referring to the low-carbon energy future which Germany has pledged to implement by 2050.
To learn more watch this YouTube video.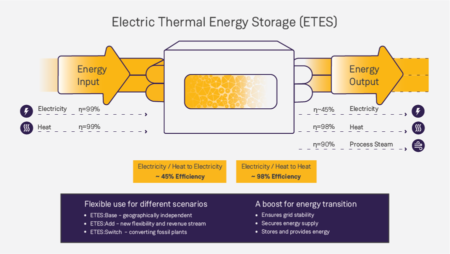 Thank Len for the Post!
Energy Central contributors share their experience and insights for the benefit of other Members (like you). Please show them your appreciation by leaving a comment, 'liking' this post, or following this Member.