Feb 13, 2019 8:33 pm GMT

1537 views
In EIA's recently released Annual Energy Outlook 2019 (AEO2019) Reference case, projected residential and commercial purchased electricity consumption grows more slowly than the number of households or total commercial floorspace. As a result, electricity intensity—the amount of electricity consumed per household or square foot of commercial floorspace—decreases by an average of 0.3% per year and 0.4% per year from 2018 through 2050 in the residential and commercial sectors, respectively.
Electricity intensity of U.S. homes and commercial buildings decreases in coming decades - Today in Energy - U.S. Energy Information Administration (EIA)
Energy Information Administration - EIA - Official Energy Statistics from the U.S. Government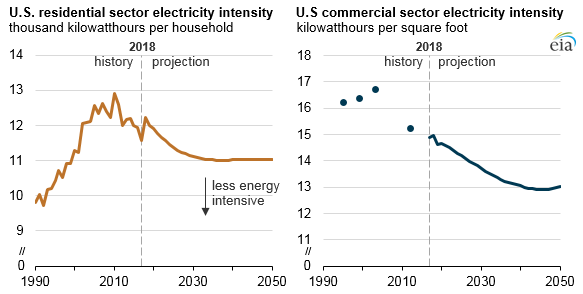 Thank Matt for the Post!
Energy Central contributors share their experience and insights for the benefit of other Members (like you). Please show them your appreciation by leaving a comment, 'liking' this post, or following this Member.