Post
21 U.S. State Governors Have Now Joined an Alliance to Meet Paris Climate Agreement Goals
February 15, 2019

3916 views
The U.S. Climate Alliance represents states committed to action on climate change. The latest to join is Wisconsin whose governor, Tony Evers, a Democrat, plans to announce today. He joins Michigan, New Mexico, and Illinois, who all have newly elected Democratic governors, and have in the past few weeks pledged their states to tackle climate change.
Formed in June of 2017 when President Donald Trump first announced that the United States was going to withdraw from the Paris Climate Agreement, the Climate Alliance is led by California, New York, and Washington, its founding members.
In announcing Wisconsin's inclusion in the alliance the governor has issued a statement in which he says, "it's time to lead our state in a new direction where we embrace science, where we discuss the very real implications of climate change, where we work to find solutions, and where we invest in renewable energy." 
The states that have joined so far are not exclusively blue, and describe their alliance as a bipartisan coalition attempting coordinated state actions to contribute to the overall global effort to fight climate change.
The Climate Alliance's three core principles include:
a recognition that climate change represents a serious threat to the environment, citizens, and economy of each respective state
a commitment to grow clean energy economies and create new jobs within each respective state while reducing air pollution, improving public health, and building more climate resilience infrastructure.
a pledge to support the Paris Climate Agreement and pursue aggressive climate action to make progress toward achieving its overall goals as well as those established by the U.S. when it signed on.
Each state has committed to:
implement policies that reduce greenhouse gas emissions by 26-28% below 2005 levels by 2025.
track and report to the rest of the global community about the effectiveness of policies to fight climate change.
host a clearinghouse of shared information among all the states containing policies, planning, data, tools, reports, and working group publications.
reduce carbon pollution and promote clean energy deployment within each respective state and promote these policies to all levels of the U.S. federal government.
develop clean energy finances to cover the cost of power sector modernization, building retrofits, new mass transit projects, and other initiatives.
The Climate Alliance has an established liaison with the United Nations to ensure a line of communication with its efforts to coordinate the global response to climate change. It has raised money from philanthropic partners to fund some of its activities including staffing for analytical research, and intergovernmental sharing of best practices, expertise, and challenges.
Among the publications produced by the Climate Alliance so far are the following:
From SLCP Challenge to Action –  a roadmap for reducing short-lived climate pollutants to meet the goals of the Paris Agreement.
Solar Deployment Guidebook – to accelerate solar adoption including reducing of non-hardware costs.
Non-Wires Solutions Implementation Playbook – to solve grid needs and look at distributed energy alternatives.
New Governors' Resilience Playbook – a guide to grapple with resilience issues, extreme weather events, crumbling infrastructure, and cyber threats.
The introduction into the newly elected House of Representatives of a Green New Deal has given further impetus to the goals of the Alliance. The Deal sets the goal of achieving zero carbon emissions within the United States by the end of the next decade. The likelihood of that seems unfeasible. But the fact that the Deal is being aired, and debated by members of Congress is a sea change for the United States after two years of Donald Trump's policy of climate change denial and rollbacks of climate mitigation and adaptation initiatives put in place by the previous federal administration.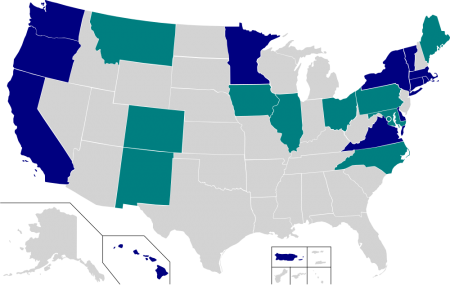 This was the growing U.S. Climate Alliance just a few weeks ago. Now you can add Michigan, Wisconsin, and New Jersey as more states indicate that they are committed to achieving the goals of the Paris Climate Agreement despite the federal government's announced withdrawal. The states in dark blue at the time this map was created were members. The states in green were pending. But Colorado, Montana, New Mexico, North Carolina, and Illinois have now joined.
Thank Len for the Post!
Energy Central contributors share their experience and insights for the benefit of other Members (like you). Please show them your appreciation by leaving a comment, 'liking' this post, or following this Member.