Post
The U.S. Military as a Driver of Clean Energy
Environmental Entrepreneurs
Mar 15, 2019 9:34 pm GMT

452 views
When the government starts taking the initiative to become a customer of clean energy, many parts of the clean energy transition benefit. Government entities can be very reliable customers, meaning those producers that get these contracts are encouraged and able to invest further. Government organizations are also large in size and energy needs, so the direct effect of those customers becoming clean-power based can be significant. And importantly, such buy in from the government can be quite symbolic to the clean energy transition.
I covered these benefits and some great examples of government entities leading by example in a previous post. However, the government entities that can outdo all others in terms of scale and importance was not included: the U.S. military. 
Well the Information Technology & Innovation Foundation would not forget such an important potential client, and they recently released a study that gave an overview on how federal energy officials should strive to pursue collaborations that put military energy technologies to better use in cutting greenhouse gas emissions.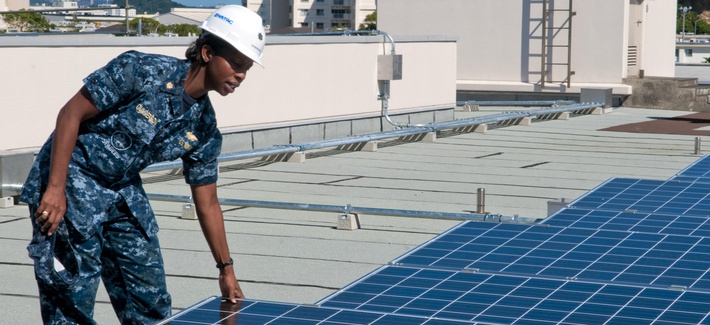 The study can be read in full here, but here are some key takeaways:
"This year, the Department of Defense (DOD) will invest $1.6 billion in research, development, testing, and evaluation (RDT&E) that is directly related to energy. The magnitude of DOD's investment in energy RDT&E reflects the importance of energy to the military mission."
"DOD energy needs are changing as well as growing. Most significant, the dramatic increase in electrical systems onboard military platforms is driving electrification of the battlefield. That and the need to reduce the logistics footprint are creating requirements for distributed and portable power generation, smart energy networks, improved energy storage, and wireless power transmission."
"Although mission-driven, DOD energy RDT&E will contribute to civilian clean energy innovation because of the military's full-spectrum approach to innovation"
DOD's approach to innovation is well suited to energy innovation, including vendors' need to both demonstrate their complex technologies at scale, under realistic conditions (DOD bases and platforms, combined with the military's testand-evaluation culture are a unique resource), and compete on price with low-cost incumbents (DOD values performance over price, and the military market is large enough to yield economies of scale and learning by doing).
What's your take on the role the military will play in the future as a researcher and customer of clean power? Are they the single entity with the greatest ability to move the clean energy needle?
Thank Matt for the Post!
Energy Central contributors share their experience and insights for the benefit of other Members (like you). Please show them your appreciation by leaving a comment, 'liking' this post, or following this Member.