Aug 6, 2019 12:00 pm GMT

921 views
A new solar-powered desalination plant developed by a nonprofit called GivePower is providing fresh water to thousands of Kenyans.
Up and running on Kenya's Kiunga Indian Ocean coast, the solar desalination plant can produce 19,800 gallons (75,000 liters) of drinking water each day, enough for some 25,000 people, according to a news report.
GivePower founder and president Hayes Barnard spun the startup off from SolarCity as a nonprofit in 2013, prior to the company being acquired by Tesla in 2016. 
The Kiunga facility initially cost $500,000 and took one month to build. GivePower hopes the plant will produce $100,000 per year in revenue, which management says it will invest in building new facilities. The company also aims to reduce the costs of building its solar desalination plants to $100,00 and be able to fund construction of an additional system every five years.
"Humanity needs to take swift action to address the increasingly severe global water crisis that faces the developing world," Barnard was quoted. "With our background in off-grid clean energy, GivePower can immediately help by deploying solar water farm solutions to save lives in areas throughout the world that suffer from prolonged water scarcity."
Solar-powered desalination plant in Kenya gives fresh water to 25,000 people a day
Solar powered desalination plant in Kenya gives fresh water to 25,000 a day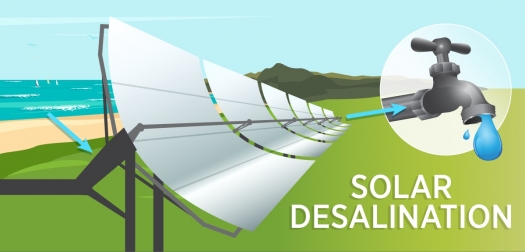 Thank Andrew for the Post!
Energy Central contributors share their experience and insights for the benefit of other Members (like you). Please show them your appreciation by leaving a comment, 'liking' this post, or following this Member.