Post
Regardless of the End Result of the Green New Deal, It's Undeniably Changed the Conversation
Southern Alliance for Clean Energy
Since the 2018 midterm elections and the rise of the Sunrise Movement that have pushed the Green New Deal into headlines, politicians, thought leaders, pundits, and likely all your neighbors, coworkers, and family members have formulated their opinion on the proposed sweeping clean energy and climate policy package. The outlooks have been wide-ranging, while a vast majority of Americans support almost all the key ideas in the Green New Deal, but the specifics are far from assured and there is likely not enough political capital to get this version of the bill passed in the near term. 
That said, the push behind the Green New Deal can already be considered a great success in one key way-- it's changed the conversation. Climate change has been well-established in the scientific community for years, and entrepreneurs, advocacy groups, and other organizations have mobilized behind finding a clean power solution. As a result, every so often the general public would seemingly get re-introduced to the danger and pending crisis of climate change, bringing in political leaders and the media to the cause for about a news cycle or two, but then seemingly get pushed aside for the next day's story. 
However, the Green New Deal-- regardless of whether you agree or disagree with the particular specifics of strategy of this sweeping legislative proposal-- has kept clean energy policy front and center and given climate change as a topic of debate and reporting the staying power it both warrants and needs.
A few examples of this phenomenon that I've noticed in recent weeks: 
Energy and Commerce Republicans ditch climate denial
When Democrats took over the House, Energy and Commerce Republicans met to discuss their strategy on climate change. The result may be bipartisan action.

"I wanted our members, and I met with each one on our committee individually or in small groups, to tell me where they're at and where they thought we should go," ranking member Greg Walden (R-Ore.), formerly the panel's chairman, told reporters last week.

Their decision, evident in the hearings held so far in the Subcommittee on Environment and Climate Change, was to develop their own message on the issue and to do away with the denial that has long defined the GOP.

"We now are speaking for our party on that committee and not allowing others to tell the public what they think Republicans are about," Walden said.

"I suffered through a lot of that and just ignored it. I said, 'I'm not going to ignore it anymore; I'll say what I'm for and what I'm not for.'"

The result is climate kumbayah on Energy and Commerce and an acceptance of science from its GOP members that would have been shocking just a few years ago and is still unusual in other committee rooms.
The Green New Deal is already changing the terms of the climate action debate
But the Green New Deal has already succeeded in one important aspect: it puts climate policies on the agenda that are as ambitious as the science of climate change demands. This makes it impossible for opponents to stay silent. The Green New Deal is forcing Democrats and Republicans to consider their own stance on climate change.

Some Democrats have branded the plan as unrealistic – a "green dream", as Pelosi called it. Veteran senator, Diane Feinstein, was similarly dismissive, when young campaigners asked for her support. Republicans, meanwhile, have branded it a socialist takeover to rally their own supporters. But the Green New Deal's opponents can't simply criticise. They will need to find their own answer to the climate question. 

For the Republicans, denying or dismissing the science of climate change is becoming less tenable by the day. The impacts of climate change are mounting, public concern is rising, and schoolchildren are striking .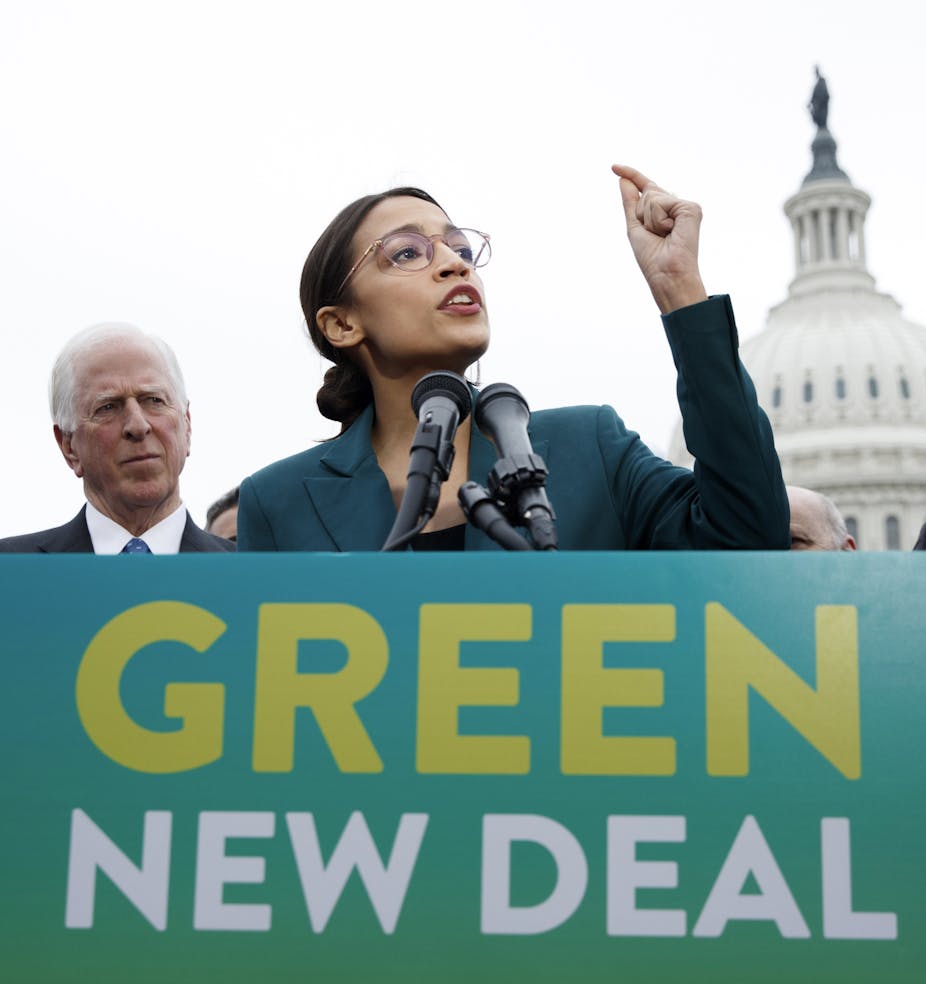 Have fellow Dems stolen Inslee's climate thunder?
In the months leading up to Jay Inslee's March 1 announcement that he'll run for president, the Washington governor made it clear his priority was to make sure climate change plays a starring role in the 2020 presidential election.

"I think 2020 should be a referendum on climate change, and we have to have a president who embraces science rather than ignorance," he told The Seattle Times in November.

In jumping into the race, the Democrat declared he is the climate candidate, and he is the one putting it on his rivals' radars, making it a top concern for primary voters.

"If climate change isn't priority one, it's not going to get done," he said during a launch event at a solar panel installation company in Seattle.

"So I am saying this: I am pledging today that if I am given this high honor, I will make fighting climate change the No. 1 priority of the United States of America."

But by the time Inslee announced his candidacy, the climate picture had changed.

Most of the candidates have pledged support for the Green New Deal to rapidly decarbonize the economy and end the United States' reliance on fossil fuels.
The last story in particular was exciting. Whereas a year or two ago, climate-hawk Inslee entering the race would have surely positioned him as the climate candidate. But given the direction of the conversation, that alone won't have him stand out. While that may be undesirable for Inslee's campaign, it's tremendous news for the clean power push to have such positions be normalized and expected. 
Thank Matt for the Post!
Energy Central contributors share their experience and insights for the benefit of other Members (like you). Please show them your appreciation by leaving a comment, 'liking' this post, or following this Member.