Apr 23, 2019 10:14 pm GMT

492 views
To commence in 2021, the 15-year agreement between Johns Hopkins and Exelon subsidiary Constellation calls for the delivery of 250,000 MWh of solar electricity, which will meet roughly two-thirds of the university's overall electricity needs, according to the university. 
It also marks the largest commitment to solar power by any organization in Maryland and one of the largest commitments to reduce greenhouse gas emissions by any institution of higher education in the U.S..
The power purchase agreement with Constellation will go a long way towards Johns Hopkins achieving its goal of reducing overall carbon emissions 51 percent by 2025. 
According to the agreement, Constellation will buy the output and renewable energy certificates (RECs) from a 175-MW solar power plant under construction in Virginia. It will then sell the power and RECs specific to the project to Johns Hopkins. 
All told, the agreement will result in Johns Hopkins reducing carbon emissions across all its campuese by 123,000 metric tons in year one. That's the equivalent of taking 26,115 cars off the road or planting more than 2.3 million trees, according to the EPA, the university highlights.
Johns Hopkins announces major solar power commitment
Through agreement with Constellation, Hopkins will meet roughly two-thirds of its overall energy needs with solar power, the largest commitment to solar energy in Maryland.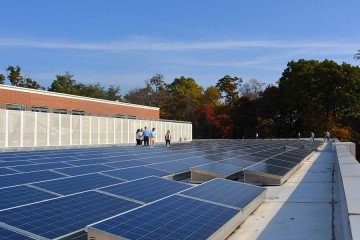 Thank Andrew for the Post!
Energy Central contributors share their experience and insights for the benefit of other Members (like you). Please show them your appreciation by leaving a comment, 'liking' this post, or following this Member.