First Solar Is Using Robots to Better Tap the Sun
Even before Trump's tariffs, the U.S. panel maker underpriced Chinese rivals with a spray-on, energy-absorbing metal.
Source:
www.bloomberg.com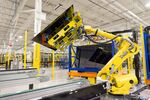 shared on January 24, 2018

173 views
First Solar has been a major beneficiary of Trump's proposed solar tariffs. The company manufactures thin film solar panels, which are not subject to the tariffs, made from a compound of two elements - Cadmium and Tellerium.  They are much more efficient as compared to conventional solar panels.
Now comes news that it is using robots to drive down manufacturing costs at its facilities. At its Ohio-based plant, "..a line of robotic arms guiding sheets of specialized conductive glass onto rollers that snake 3 miles through cleaning, grinding, and spraying machines. A final robot grabs the completed panel, about the size of a large flatscreen TV, and places it in a box for shipment," the article states. The introduction of robots has reduced manpower costs (there are only about a dozen workers at its place) and time required to make panels (3.5 hours versus the three days that Chinese solar companies need to make similar-size panels).  The company is committed to spend about $1.4 billion in the next two years on factories in Vietnam and Malaysia.