Post
Comparing 100% Renewable Energy Moonshot to the Original (and Literal) Moonshot
Getty Images
Mar 25, 2019 1:45 am GMT

396 views
An interesting article was published in the Capitol Hill site "The Hill" that I thought would be an interesting start to a discussion among members of the Clean Power community. You can read the piece here, titled: 'The 100 percent renewables moonshot: We're closer than you think.'
The author makes an aspirational (and inspirational) comparison between the current push by many advocates to reach 100% renewable energy as a necessary step to fight climate change and the mission in the 1960s to land a man on the moon. Because many clean technologies or aspects of the clean energy transition are often referred to as a moonshot (that is, a goal that requires immense progress that may seem impossible but if doable would be incredible), the author points out that our technological progress towards reaching that goal is actually closer than the progress towards reaching the moon was in 1961 when President Kennedy famously pledged to do so by the end of the decade. 
While many called JFK's pledge to land a man on the moon by the end of the 1960s seemed laughably far off to many listening at the time, we all know how that story went. The immense competition, public and government support, and collective drive to make that goal a reality fostered the right environment to make the original moonshot come to fruition. Likewise, if we created a similar environment around the 100% renewable goals-- could the same acceleration in progress be realized? The article points out a few examples of progress in that regard: 
Solar capacity has almost 

tripled

 in recent years, from 19,000 megawatts in 2015 to 48,000 megawatts in 2018.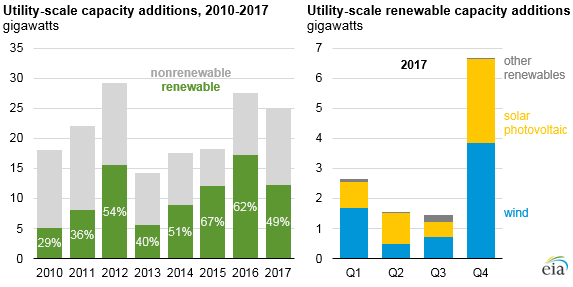 There's no question that the target of 100 percent renewables by 2035 is aggressive. But that's a feature, not a bug.
Given those numbers, perhaps the moonshot of 100% renewables is not so farfetched? 
My take, though, is that this is the right mentality to have. Because unlike actually landing on the moon, getting 90% to the goal is actually an acceptable result-- but we should shoot for 100% to light the necessary fire underneath the industry and our leaders. 
Thank Matt for the Post!
Energy Central contributors share their experience and insights for the benefit of other Members (like you). Please show them your appreciation by leaving a comment, 'liking' this post, or following this Member.