Post
As Carbon Emissions Grow or Stall, a Country and a State Showcasing Two Battles for Carbon Pricing
image credit: PolicyEd
Jul 16, 2019 1:20 am GMT

689 views
The key reason to trying to institute a clean energy mix globally is because the continued burning of fossil fuels—coal, oil, natural gas, and other petroleum products—are known to release large amounts of greenhouse gases, the main cause of manmade climate change. That part of the situation is (mostly) agreed upon, with the need to reduce carbon emissions a natural goal, in an environmental where U.S emissions have been yo-yoing between  year-over-year increase and decreases. Of the various policy mechanisms and levers used in an attempt to engage in this change to a clean energy future, one of the most common economic measures discussed is pricing carbon.
Carbon prices, which can come via carbon tax, cap-and-trade, or other measures, attempt to internalize the externalities that unrelenting GHG emissions push onto the world. The pollution that affects public health, the anticipated human and financial loss from rising seas and a heating planet, and the green measures required to counter them all institute a financial cost on others, a cost that those emitting greenhouse gases are not necessarily responsible for paying. Some sort of carbon pricing policy, however, flips that script. By making it cost more money to emit these gases, it makes the business case to switch to cleaner fuels even more appealing for utilities and other fossil fuel burners, while those who are slower to act will then start to pay more of the burden that they are creating on others.
Such carbon pricing mechanisms are, of course, not without controversy. They can be politically dangerous for candidates to embrace, especially when fossil fuel advocacy groups push the message that these will be simply taxes passed on to the common person. Unfortunately, environmental and responsibility measures are popular until they hit your wallet!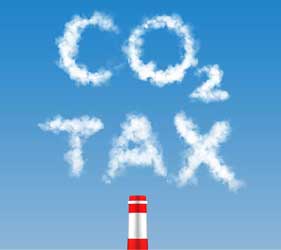 That said, many areas of the world have experimented with and even implemented carbon pricing. Two proposals are being debated this week, showcasing how carbon pricing is being debated, structured, and potentially implemented on a country-wide level as well as a more local (state) level.
First, in Germany the government took a step towards pushing a carbon pricing mechanism that's intended to bring the nation back to its desired leadership position regarding international climate pledges and actions. As reported in this piece in Bloomberg, Chancellor Merkel's climate panel has recommended a carbon price of 25 to 50 euros per ton on carbon dioxide as a price carbon tax OR extend the EU's Emissions Trading System to include transport and heating.
The panel recommended a carbon price of between €25 and €50 per ton under the trading system to discourage fossil-fuel use. Transport and heating account for about 40% of Germany's greenhouse gas emissions but aren't yet covered by the E.U.'s carbon market.

Merkel has made it a priority this summer to get coalition backing for putting a price on the transport and heating industries. While Germany has cut emissions from power production, pollution from automobiles, trucks and aircraft remain stubbornly high.

The chancellor faces a political tightrope walk to get the policy right. Polls and "Fridays for Future" demonstrations underline voters' impatience with slow progress in hitting climate pledges. At the same time, any move to put new fiscal burdens on fossil transport and heating fuels may come with a political price for Merkel.
Meanwhile, the state of Massachusetts is likewise debating carbon tax in an attempt to ramp up the use of renewable energy across the state. Associated Press has reported that the proposal would institute a fee of $20 per ton of CO2 emissions produced by fossil fuels, increasing $5 per year until it reaches $40 per ton. The proposal dictates that 30% of the revenue collected would go towards a Green Infrastructure Fund to help the state and its cities build out new carbon reduction initiatives and infrastructure, with the remaining 70% going to rebates to households and buildings to offset most of the increased fuel costs. 
Unsurprisingly, this proposal has passionate defenders and critics, who all point to the effect it will have on the economy and the impact (or lack thereof) it will have on desired climate action:
Critics of the proposal say it will increase the annual tax bill for Massachusetts households by hundreds of dollars in the first year, while costing the state thousands of private sector jobs.

Skeptics also say that any action taken by Massachusetts — with a population of close to 7 million, compared with a global population of more than 7 billion — will have virtually no effect on sea level rise or other global impacts of climate change.

"On the matter of climate change, politicians have reached a point where they will throw anything they have at the problem without a thought to the economic consequences or, for that matter, the actual effects on climate change," David Tuerck, president of the conservative-leaning Beacon Hill Institute, said in a statement this week.

Backers of the legislation, including the Boston-based nonprofit Climate Xchange, have argued the changes would bring a net positive economic impact for the state.

The group points to a 2014 report prepared for the state Department of Energy Resources that estimated that a carbon fee or tax could lead to 4,000 to 10,000 more jobs by 2030, primarily because the state would be spending less on importing fuels and energy.

Michael Green, the group's executive director, said opponents of a carbon tax fail to factor in the cost of taking no action.

"Not only does climate change pose a massive risk to our future, other states and countries are passing us as they build toward a low carbon economy," Green said in a statement.

 
Issues like this have gotten hyperpoliticized. In this political climate, it's one thing to debate what measure is the best, but unfortunately just as important has become how politically viable a measure is—which seems to be more of an issue in the Massachusetts proposal than the German one. On the other hand, the German proposal looks to have more widespread impact and cooperation with other climate and carbon pricing mechanisms, while Massachusetts is looking to set an example.
What do you make of the similarities and differences in these proposals? How politically achievable are either of them? What about their economic and environmentally impacts—will the bear the fruit they intend or will they do more harm than good, as their critics claim? Let's discuss your take in the comments.
Thank Matt for the Post!
Energy Central contributors share their experience and insights for the benefit of other Members (like you). Please show them your appreciation by leaving a comment, 'liking' this post, or following this Member.