Utilities planning to move Californians to time-of-use pricing need solutions for low-income customers
While a significant number of Californians will be able to adapt to this new pricing, the shift this summer and next will likely be more challenging for some ─ namely, low-income customers in hot areas of the state.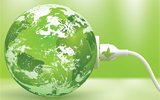 shared on February 5, 2018

111 views
Time-of-use pricing, if done right, is a low-cost strategy to help meet California's climate and clean energy goals. This innovative tool can help the state rely more on clean energy and less on fossil fuels, at the same time delaying the need for new infrastructure and reducing costs and harmful emissions.